The links between Belper, Derbyshire, UK and Pawtucket, Rode Island, USA
and views of East Lodge garden..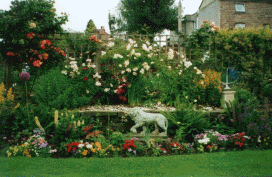 Views of East Lodge Garden.

Best Residential Garden in East Midlands, 2002
Linda and her garden wass featured on BBC Video Nation where she made four short videos of the seasons.
Beaucause these are not reliably reproduced on the BBC website anymore, a combined version is reproduced here.



To view this video please enable JavaScript, and consider upgrading to a web browser that supports HTML5 video







Links with Pawtucket, Rhode Island, USA
Samuel Slater was born at the family farm Holly House in 1768 to William Slater one of the landed gentry of Blackbrook, near Belper, England. William was an associate of Jedediah Strutt whom he helped secure the ground and water necessary for a new mill at Milford. Samuel was apprenticed at this Strutt mill in 1782 aged 14, and was brought up in the Strutt family home.